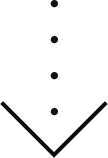 Introducing Nobu Hagino,
a precision glass etching artist.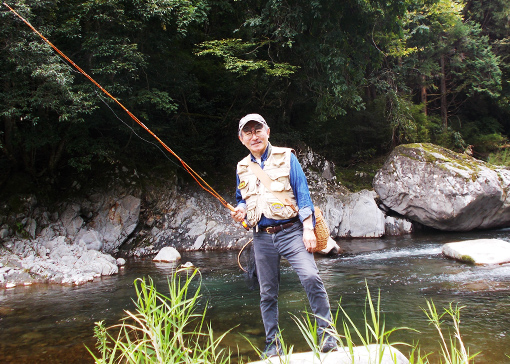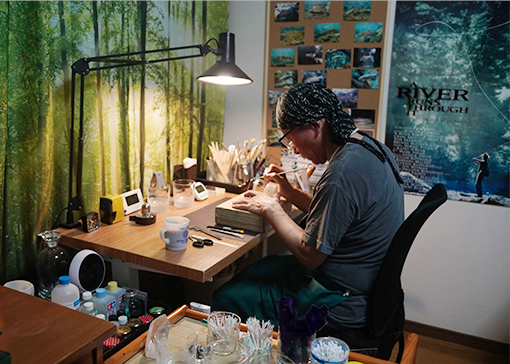 Personal profile
Nobuhiko Hagino
1954

Born in Miyazaki City, Miyazaki Prefecture, Japan.
His house is very close to the river and he started fishing at the age of 10.

1976

Employed at a food manufacturing machine manufacturer in Hyogo prefecture

1977

Job change to the parent company of Mifune, a Japanese restaurant in California, USA.
Started fly fishing.

1980

Returned to Miyazaki for health reasons, worked for a newspaper company.
Responsible for sales and advertising production.

1982

Job change to Daikoku Denki Co., Ltd., the largest amusement facility management system manufacturer in Japan.  (2002 Listed companies) Responsible for sales until retirement.

1998

Started glass etching by self-education.
In seven years, he produced 37 types of mascot tumblers for three world-famous Japanese brewers.

2014

We devised an original glass etching technology "precision etching method", which enabled precise depiction not found in conventional techniques.

2016

The achievements he achieved in 1991 were registered in the history of the company.

2020

Retirement.
Established a limited liability company, Golden Pond.

2021

Established website and started selling etching tumbler.

Hobby

Fly fishing, Aircraft photography, Coleman lantern collector.
A message from a craftsman.
On a winter night when I couldn't swing the rod, I carved a brown trout on my favorite tumbler.
Pour whiskey into this tumbler and you'll be back at the fishing spot that day.
That morning when the rod bent like a bow and the reel screamed.
When finished fly tying, enjoy whiskey.
Rise will begin soon in a small amber pond.
The origins of this tumbler
This tumbler was made based on Japanese "Gyotaku".
This tumbler was created based on the Japanese "rubbed copy(拓本)" tradition known as Gyotaku (魚拓) a method of printmaking using real fish. It was invented by samurai fishermen in the 1800s to record their catches, but has also become an art form of its own. It is a method of art that uses fish like a printing plate by applying Sumi ink directly onto the fish and pressing it against washi paper or cloth.
In Japan's 1800s, there was a small but affluent clan called the Shonai clan (庄内藩)in what is now Yamagata Prefecture.
The clan(藩) was the smallest unit nation in Japan at that time, and it was a nation like a state in the United States, and was governed by the feudal lord.
The feudal lord of this clan recommended rocky shore fishing to maintain the physical strength of the samurai.
Therefore, the samurai had to walk more than 16 miles round trip from where they lived to the sea at the fishing spot.
In addition, their luggage was over 20lb.
This rocky shore fishing was a harsh game, but later saved the clan as military training.
Gyotaku was invented by the samurai to prove this fishing result.
Anyone can easily make their own fish rubbings by bringing black ink and paper to the fishing spot.
Customarily, when fish rubbings were made, the name of the angler and a person who accompanied him, the date, place, species, size, and weight of the fish were also recorded.

Later, when the samurai era ended 153 years ago and Japan entered the Meiji era, Gyotaku spread to anglers all over the country. However, with the spread of catch-and-release and cell phone cameras in recent years, few people are still doing it and it is now an endangered art form.
This Gyotaku was made 159 years ago.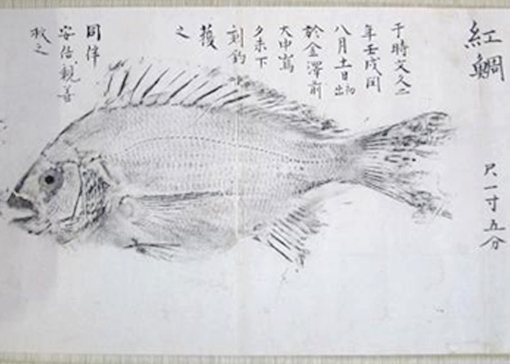 Red sea bream
Provided by the Honma Museum of Art.
This Gyotaku was created in 1862 by an 18 year old samurai named Naotsuna Ujiie.(直綱 氏家)
The year 1862 was two years after the start of the Civil War in the United States.
The fish was caught in what is now the Sea of Japan in Yamagata Prefecture.
From the right, it says: species of fish, red snapper, captured on August 11, 1862, size 13.7 inches, 34.84 cm.
And when he caught this fish. His colleague Chikayoshi Abe(親善 安倍) was there.
This is the oldest Gyotaku in the world, made by a technique called the indirect method.